Welcome to OBX CHEVROLET BUICK Service Center
Ensure Your Chevrolet or Buick Vehicle Receives the Service it Needs in Kitty Hawk
At OBX Chevrolet Buick, we know that your car deserves only the best care. With the right routine service, you Chevrolet or Buick vehicle can last you for years to come, so it only makes sense to choose a trusted partner to maintain it, right? Our service center knows vehicles like the Chevrolet Silverado 1500, Equinox, Tahoe, Suburban, and Trax inside and out, so you can trust us to take care of yours with ease.
From the Routine to the Unexpected, Count on the OBX Chevrolet Buick Service Team to Handle it All
You already know routine oil changes and other regularly scheduled maintenance appointments are essential to your vehicle's longevity. At OBX Chevrolet Buick, we're proud to offer these services, and much more, at our dealership, conveniently located in the greater Kill Devil Hills, Southern Shores, Kitty Hawk, Duck, and Manteo NC area. The menu of services we offer and can help with include everything from brake repairs, to exhaust checkups, to warranties and recalls. We strive to make owning a Chevrolet Silverado 1500, Equinox, Tahoe, Suburban, or Trax easier, and we accomplish that with an experienced service center.
Contact Our Kitty Hawk Service Team to Schedule Chevrolet, Buick Service
Don't put off service for your Chevrolet Silverado 1500, Equinox, Tahoe, Suburban, or Trax until there is a more significant issue. When you place your trust in our service experts, you will discover how easy service for your car, truck, or SUV can be. Simply contact our service team to schedule an appointment, drop off your Chevrolet or Buick vehicle, and wait a short time for it be completed. If you have any questions about our services or you're unsure what is needed, our service team can help provide the answers you need.
Service Offers And Pricing
We offer competitive prices on popular vehicle services like oil changes, brakes and tires.
Maintenance
Need New Tires?
Your vehicle's tires are the first and only contact with the road, so it is important to choose the right set when replacing them. OBX CHEVROLET BUICK has Certified Service experts that will handle all of your tire needs. From checking tire wear to tire pressure, our team can also help you find new tires for your vehicle.
Need an Oil Change Near KITTY HAWK
Driving around with dirty oil - or not enough oil - can shorten the life of your engine. Our Certified Service experts can change your oil quickly. Schedule an appointment today.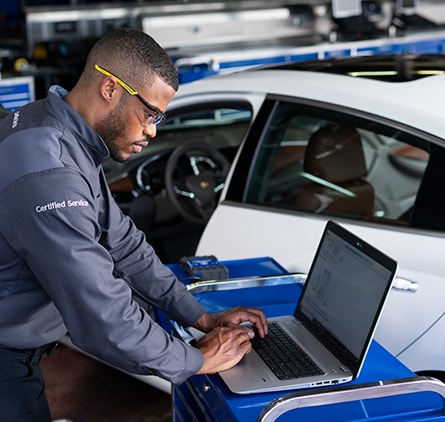 MULTI-POINT VEHICLE INSPECTION
With your Multi-Point Vehicle Inspection, you get a thorough assessment of your vehicle by the Certified Service experts. So protect yourself and your automotive investment with a comprehensive vehicle inspection at your OBX CHEVROLET BUICK today.
Download the GM Multi-Point Vehicle Inspection Sheet
The Multi-Point Vehicle Inspection form uses a simple color-coded key to assess maintenance terms:
Red indicates items that need immediate attention.
Yellow indicates items that should be addressed in the near future.
Green indicates no items to address.
Hearing Brake Noise?
Stopping power is crucial to a safe and successful driving experience. When you need brake service, visit OBX CHEVROLET BUICK and the Chevrolet, Buick Certified Service experts can recommend quality new brakes.
Battery Trouble?
Your vehicle's battery provides energy to start the engine, plus it supplies power to accessories when the engine is not running. The cold of winter and the heat of summer can affect your auto battery. See us for your vehicle's battery needs.
GET IN TOUCH
Contact Our Service Department
Monday

7:30 am - 7:00 pm

Tuesday

7:30 am - 7:00 pm

Wednesday

7:30 am - 7:00 pm

Thursday

7:30 am - 7:00 pm

Friday

7:30 am - 7:00 pm

Saturday

8:00 am - 4:00 pm

Sunday

Closed
See All Department Hours
Dealership Hours
Monday

8:30 am - 8:00 pm

Tuesday

8:30 am - 8:00 pm

Wednesday

8:30 am - 8:00 pm

Thursday

8:30 am - 8:00 pm

Friday

8:30 am - 6:00 pm

Saturday

8:30 am - 6:00 pm

Sunday

Closed
Service Dept. Hours
Monday

7:30 am - 7:00 pm

Tuesday

7:30 am - 7:00 pm

Wednesday

7:30 am - 7:00 pm

Thursday

7:30 am - 7:00 pm

Friday

7:30 am - 7:00 pm

Saturday

8:00 am - 4:00 pm

Sunday

Closed
Parts Dept. Hours
Monday

7:30 am - 6:00 pm

Tuesday

7:30 am - 6:00 pm

Wednesday

7:30 am - 6:00 pm

Thursday

7:30 am - 6:00 pm

Friday

7:30 am - 6:00 pm

Saturday

7:30 am - 4:00 pm

Sunday

Closed